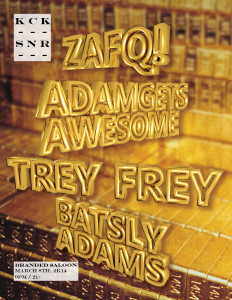 YO THIS SHOW IS GONNA BE $$$. With our third kick.snare iteration, we bring you: straight outta the Polish backwoods, Adam Gets Awesome, with some of the dankest, hardest-hitting Atari jams this side of the Steppe, ZAFQ! (we have no idea who this is but he tweeted at us that his beats is sick so w/e let's give it a whirl), and TREY (mother fucking) FREY, fresh off of his incredible release 'Refresh'. Visual wizardy provided by the actual wizard himself: Batsly Adams. No one is safe. This show will leave you sore and broken. Don't miss it. SHITS GON BE $$$.
Branded Saloon (7 Ave B/Q or Grand Army Plaza 2/3). 21+. $5. $7 to receive SPECIAL K.S SUPPORTER STATUS.
FEATURING:
—- TREY FREY —-
Beginning in 2010, Trey Frey quickly shot to relative fame on the 8bc forums with his brand of euphoric and masterfully-programmed chiptune, written using LSDJ on original Nintendo Gameboy DMGs. Hailing from West Virginia, Trey went on to release two self-titled full lengths, an EP on Pxl-Bot, appear on countless compilations and play festivals and shows from MAGfest to 8static. More recently, Trey co-founded the label 'TheBaseBit recordings' before releasing his third full length, 'Refresh', on it. 'Refresh' contained many of the enraptured mixtures of trance and chiptune that made him so popular to begin with, and marks a milestone as 'TheBaseBit recordings' second ever release.
https://www.facebook.com/TREYFREY
https://soundcloud.com/treyfrey
—- ADAMGET$AWE$OME —-
Four on the floor Atari ST and Gameboy party music. Get down, or get
out
https://twitter.com/adamgetsawesome
—- ZAFQ! —-
ZAFQ! (1900-1959) was an American composer—born in Trenton, New Jersey—who began his professional career in Europe, where he was friends with, among many others, James Joyce, The Green Power Ranger, Gertrude Stein, Pablo Picasso, KRAFTWERK, Ernest Hemingway, Richie Hawtin, and Igor Stravinsky. In the early '20s, he lived at the literal center of English-language culture in Europe: above Sylvia Beach's legendary Shakespeare & Co. bookstore on the Rue de l'Odéon, in Paris's BA$$ Quarter. (Beach was the original publisher of ZAFQ!'s controversial and groundbreaking Liquid Dreams Vol. 1.)
They say he has his mother's eyes – with only a slight transposition of 0C.
https://www.youtube.com/watch?v=R8Vn_65yBD4
—- BAT$LY ADAM$ —-
Electrical engineer by day – NES / genesis homebrew developer by night – hired goon 24hrs (ask for rates)