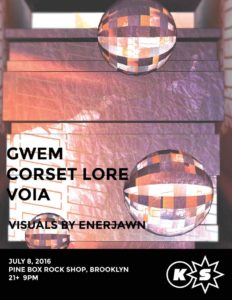 kick.snare
gwEm
Corset Lore
VOIA
Viz by Enerjawn
21+ Only
$10
July 8th 2016 – 9:00 Doors
Pine Box Rock Shop
12 Grattan St, Brooklyn, NY 11206
(Right off the Morgan L Stop)
www.pineboxrockshop.com
Hey we're back! We had a lot of fun with the Chill.Snare event but it's time to kick things back up a notch and bring the heat (and right on time for the summer!) This time around we have local hero VOIA making his kick.snare debut right on the heels of his recent release Hyperloop! Following VOIA will be Corset Lore with some high-quality cerebral LSDJ jams! Closing out the night is the one and only, the legendary, the incomparable gwEm all the way from the UK! Visuals all night will be done by lo-fi vizmaster Enerjawn. We can't wait to party with all of you, so mark down the date on your calendar RIGHT NOW and GET HYPE!
gwEm – Astralwerks, Shitkatapult, 8bitpeoples, Cheapbeats
With a career in 8bit music lasting more than 15 years and over two
hundred gigs in at least twenty countries, few musicians in the 8bit scene
can claim to be more seasoned than gwEm. His travels have taken him as far
east as Japan, as far north as Norway, as far south as India, as far west
as the United States and he has no plans of hanging up his trademark
Flying V guitar anytime soon.
—————————————
Corset Lore –
Corset Lore's fantastical song constructions lie at the intersection of baroque style, asian folklore, science fiction, avant-pop and underground music of the late 20th century. She writes 8 bit compositions on a Game Boy DMG-01 and has a release on Philly chip music imprint, 8static, while also appearing on compilations from 8bitpeoples and Pxl-Win. Among others, she has performed at the Hackers on Planet Earth conference, MAGfest, I/O chip music, Kick.Snare, Vector Festival, Pulsewave NYC, 8static Festival and at PAX East.
—————————————
VOIA –
Hailing from the New York City area, VOIA is a 23 year old electronic musician with roots spanning from heavy classical and jazz to alternative rock and various flavors of EDM. VOIA takes these genres and creates musical alchemy, mixing together his signature symphonic style with the color and texture of influences like BT, deadmau5, Pendulum, Madeon, and Mord Fustang. Getting his start in electronic music in early 2012, VOIA has been producing non-stop. Fueled by a desire to inspire and make you dance.
—————————————
Enerjawn
Producing visuals with forgotten relics of the past.
FB Event Link: https://www.facebook.com/events/1801625923389250
Poster by Kris Keyser & Note!