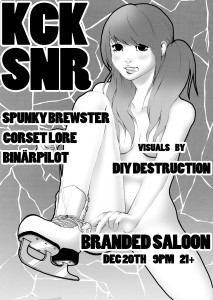 kick.snare is proud to present, a very holiday party time with SPUNKY BREWSTER, CORSET LORE, and – freshly transplanted to New "motherfucking" York City – BINARPILOT. With eyeball lacerations by DIY DESTRUCTION. Come get toasty warm with the best chip gals and guys in town while soaking your holiday cheers in some holiday beers.
Branded Saloon. 21+. $5. FIRST 10 PEEPS GET A PIN.
With anime posterings by @KewCake !!
FB RINK ===> http://tinyurl.com/lblz6ep
FEATURING:
—- Spunky Brewster —-
Spunky Brewster, hailing from Planet Zaxxon, is a devoted music and sound enthusiast who is interested in one thing: to provide the people of Earth with smooth grooves and sassy vibes. His main inspirations sprout from early computer technology, such as MS-DOS games and software.  Spunky Brewster is also madly in love with the Sound Blaster 16 sound card (FM synthesis), which tends to be the primary source for the creation of his songs. He hopes to meet you all soon!
http://www.planetzaxxon.com (Coming in 2014)
https://www.facebook.com/SpunkyBrewster
—- Corset Lore —-
Corset Lore 's fantastical song constructions lie at the intersection of baroque style, asian folklore, science fiction and underground music of the late 20th century. She writes 8 bit compositions on a Game Boy DMG-01 and sometimes transmits these frequencies to multiple radios in installation for spatialized performance. While playing guitar, she fancies electric toothbrushes and ebow to guitar plectra most of the time. She has performed at Hackers on Planet Earth Number Nine 2012, I/O chip music showcase, Splice NYC, Vector Game Art Festival, the WARPER 7 year anniversary party, Ladies' Night at Pulsewave NYC, 8static Festival – 5 Year Anniversary celebration and in collaboration with glomag at PAX East and Public Assembly. Compilations include Starscream's "Future, And It Doesn't Work + Remixes" record, "Reformat: A Tribute to Bit Shifter's Information Chase" on 8bitpeoples and 'Pxl-Win', a collaboration between Chiptunes=WIN and Pxl-Bot. With absolute delight, her debut EP, "Corset Lore" was released on the 8static imprint in October 2013.
—- Binarpilot —-
I make music because I love to. I don't want to be famous, I don't want to make a lot of money, I just want to keep making music that I like and share it with everyone. Especially the robots, geeks, hackers, and nerds of this world.
—- DIY DESTRUCTION —-
DIY_Destruction (Michael Goodman) has been doing visuals for the better part of 6 years using a circuit bent NES and custom Pure Data patches. Using now a Raspberry Pi with Super Pikix Pi. Originally from NY He has performed in Canada, Boston, England and numerous festivals such as PAX Prime, PAX East, MAG Fest and SuperByte 2013.